If you are heading over here from my Twilight Junkies Anonymous blog, then you already know about IRWTSMN on Trixie and Tess's blog! If not - then head on over there and read all about it.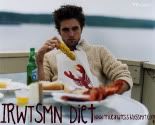 This is blog that my sister Barb and I put together back in January when were turning over our New Year's leaf. If you are interested in using this blog as a place to vent or talk about diety/Twilight things please let me know. Just drop me an email at
twilightjunkiesanonymousblog@gmail.com
As you can see, my last post was in June.
But since we are all starting the IRWTSMN diet, I thought I should try to start posting here again.